How Did This Get Made? Featuring New York Ninja on August 11 at Count Basie Center for the Arts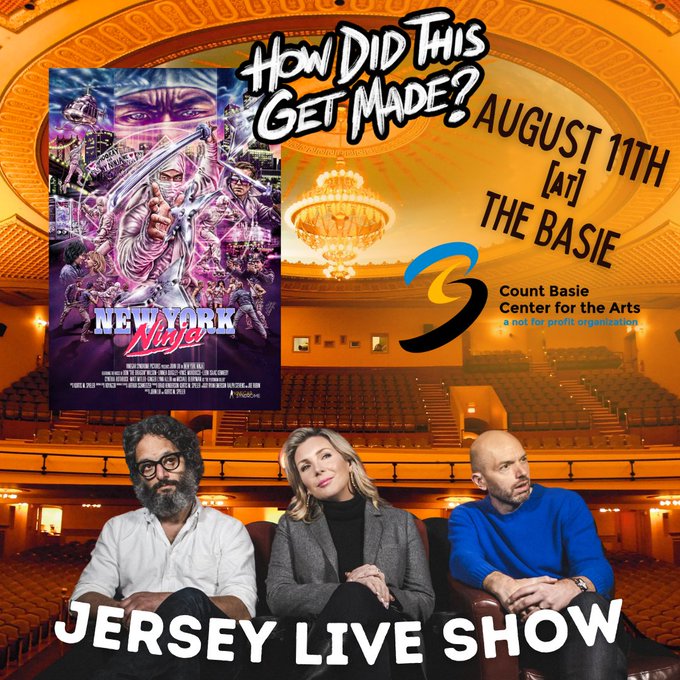 Super excited to share that How Did This Get Made? is featuring New York Ninja as part of their summer touring season! Friday, August 11 at the Count Basie Center for the Arts in Red Bank, New Jersey. If you are in the area, get your tickets now! Keep a look out for the podcast version of their viewing of New York Ninja.
Featuring New York Ninja (2021 via 1984)
Get ready to dive into the depths of cinematic absurdity with the podcast that celebrates the best of the worst. How Did This Get Made. Join the dynamic trio of Paul Scheer, Jason Mantzoukas, and June Diane Raphael as they expertly dissect and hilariously roast some of the most mind-boggling movies ever made.
With a combined resume that includes hit shows like The League, Black Monday, Brooklyn 99, Grace & Frankie, and Long Shot, these hosts bring their comedic genius to every episode of How Did This Get Made. Together, with their funniest friends, they subject themselves to a cinematic nightmare, leaving no ridiculous plot twist or cringe-worthy dialogue unturned.
How Did This Get Made? (HDTGM) is a podcast on the Earwolf network. It is hosted by Paul Scheer, June Diane Raphael and Jason Mantzoukas with occasional substitutes and/or guest hosts. Each episode features the deconstruction and mockery of outlandish and bad films.
The hosts and guest make jokes about the films as well as attempt to unscramble plots. After discussing the film, Scheer reads "second opinions" in the form of five-star reviews posted online by Amazon.com users. The hosts also often make recommendations on if the film is worth watching. The show is released every two weeks. Listen here!
Check out a track from the New York Ninja soundtrack here! Check out our V3 Cast podcast episode covering New York Ninja here.