Biography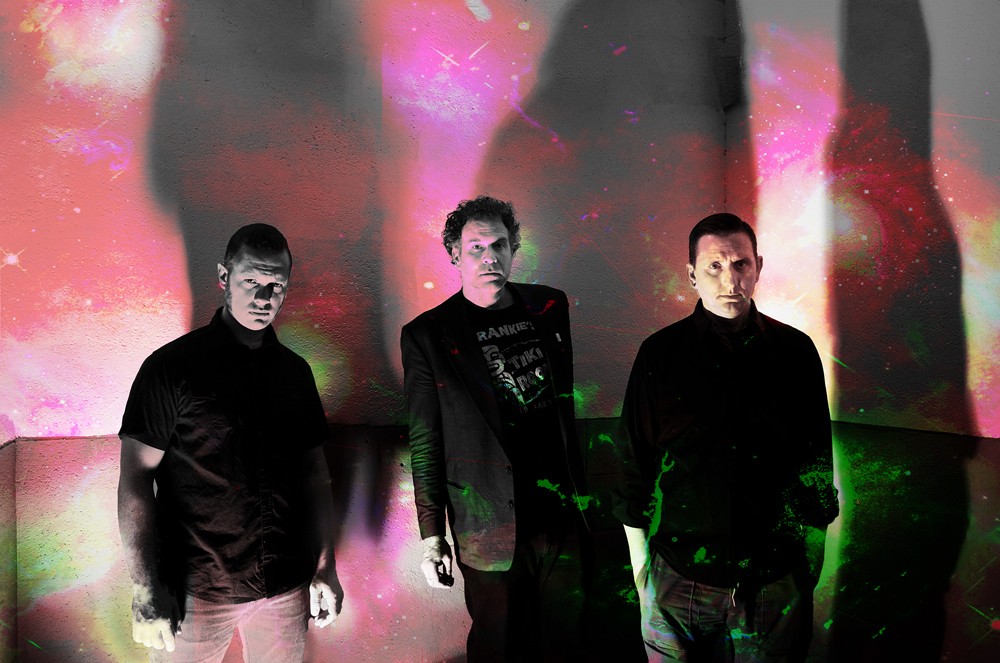 Pronounced "Voyager 3," Detroit's Voyag3r feature keyboardist Steve Greene, guitarist Aaron Greene, and drummer Greg Mastin. Inspired by the soundtracks to vintage horror, action, and sci-fi films, the trio creates experimental rock that owes a debt to pioneers like John Carpenter and shares a kinship with bands such as Trans Am, Teeth of the Sea, and Zombi.
Voyag3r recorded their debut single, "Victory in the Battle Chamber," in early 2013 and released it in June of that year via Bellyache Records.The band entered the studio late in 2013 to record its first full-length. The results were 2014's Doom Fortress; two songs from the album were featured in the short film Portal to Hell!, which starred "Rowdy" Roddy Piper. Later that year, Voyag3r issued the "Secret of the Ice Mountain" single. They returned in 2016 with the full-length Are You Synthetic? and contributed a track to the soundtrack to Rise of the Synths, a crowdfunded documentary about synthwave and retro electronic music. For 2019's War Mask, the band emphasized its rock leanings as well as its roots in classic '70s synth sounds and covered King Crimson's "Red." On Friday, September 3rd, 2021, Vinegar Syndrome announced New York Ninja, a lost and unfinished Ninja film from the 1980's written, directed and starring John Liu. Voyag3r composed the films score after Vinegar Syndrome assembled the movie from the principal film reels, making is ready for release in fall 2021.
On November 17, 2021, Voyag3r launched their own official podcast, known as V3 Cast. On this podcast the band hangs out via Zoom and talks about all types of pop culture topics, such as films, music, books, comics, D&D and much more. They also share the latest Voyag3r news. The video version of the podcast is published to the official Voyag3r YouTube channel and the audio version is available on all podcast platforms.
– Heather Phares
Voyag3r is:
Steve Greene – Synthesizers, piano
Greg Mastin – Acoustic and electronic drums
Aaron Greene – Guitars
Noteworthy:
• Voyag3r set to attend and perform at Motor City Nightmares 2022
• Voyag3r announce V3 Cast, their official podcast, which appears on YouTube and all podcast platforms.
• Voyag3r attend the World Premiere of New York Ninja at the Aero Theatre in Santa Monica, CA on Saturday, October 2, 2021, as part of Beyond Fest.
• On Friday, September 3, 2021, Voyag3r announce their 4th full length album, the Original Motion Picture Soundtrack to New York Ninja.
• Voyag3r are tapped for support on some date of Cybertronic Spree's 2019 North American Tour
• On April 29, 2019, Voyag3r release their 3rd full length album, War Mask.
• Voyag3r contributing a brand new song to the Lake Shore Records documentary film The Rise of the Synths companion album
• Are You Synthetic? was picked up for UK distribution by Transmission Records
• Are You Synthetic? was picked up for US distribution by Light On The Attic Records
• Voyag3r announced the release date of their 2nd full-length album, Are You Synthetic? for Friday, April 8, 2016
• Played the 3rd installment of Berserker Fest March 2016 (Played with Voivod)
• Released the single "Secret Of The Ice Mountain" to Bandcamp for FREE, through December 2014
• National and international positive reviews for Doom Fortress (http://www.reverbnation.com/voyag3r)
• In 2014, Voyag3r Licensed two tracks to the short film Portal to Hell!, starring Roddy Piper from WWE and They Live fame.
• 1st pressing of Doom Fortress on vinyl sold out, 2nd pressing release date is December 9, 2014
• Released a video for "Il Guanto Nero" on November 21, 2014
• Doom Fortress was picked up for UK distribution by Death Waltz Records
• Doom Fortress was picked up for US distribution by Light On The Attic Records
• Doom Fortress received 4.5 out of 5 skulls in the 17th Annual Halloween Issue of Rue Morgue Magazine
• Played the 2014 Theatre Bizarre at the Masonic Temple in Detroit, MI
• Gold vinyl LP variant of Doom Fortress sold out on pre-order
• Voyag3r announced the release date of their debut album, Doom Fortress for Friday, August 26, 2014
• Played Metro Times Blowout 2014 (Headlined New Way Bar in Ferndale, MI)
• Played the 1st Berserker Fest February 2014 (Headlined Thursday night at the W.A.B.)
• Played the 1st Hamtrmack Fest March 2014 (as part of the Bellyache Records showcase)
• Sold Out Black Friday Night show at the New Way Bar (November 2013)
• Played in front of 1,000's at Dally In The Dally 2013
• Sold Out 7″ release show at the New Way Bar (July 2013)
• Played Metro Times Blowout 2013
• National and international positive reviews for debut 7″ (http://www.reverbnation.com/voyag3r)
2014
• Digital only single, Secret Of The Ice Mountain, released for FREE, through December, to the Voyag3r Bandcamp page as a thank you to fans and supporters for a great 2014.
• Debut full length LP, Doom Fortress release dates:
Digital = Tuesday, August 26, 2014 (iTunes, Amazon MP3, Bandcamp, Google Play and most other web music stores
Physical LP, CD and Cassette release = Saturday, September 6, 2014
• Doom Fortress was recorded at the Tempermill Studios (Ferndale, MI) in winter of 2014. Tony Hamera engineered, mixed and mastered Doom Fortress
2013
• Victory In The Battle Chamber 7″ was releaed on June 6, 2013
• Victory In The Battle Chamber 7″ was recorded at The Tempermill Studios (Ferndale, MI) in late January 2013 with producer Tony Hamera