V3 Cast #10 now available – Moon Knight, The Never Ending Story and Steve DiGiorgio playing on new Megadeth album
V3 Cast #10 is now live on our YouTube channel or wherever you get your podcasts.
In this episode, we discuss Moon Knight as well as one of our favorite classic, 80's films, The Never Ending Story. We also get excited about Steve DiGiorgio playing on the new Megadeth album.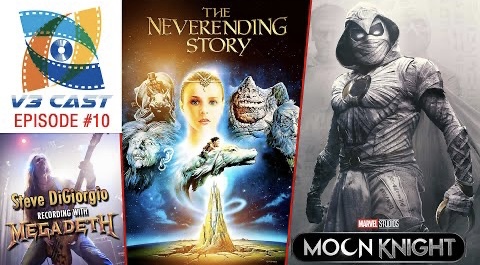 Moon Knight – Some light discussion about the new series on Disney Plus. Moon Knight follows Steven Grant, a mild-mannered gift-shop employee, who becomes plagued with blackouts and memories of another life. Steven discovers he has dissociative identity disorder and shares a body with mercenary Marc Spector. As Steven/Marc's enemies converge upon them, they must navigate their complex identities while thrust into a deadly mystery among the powerful gods of Egypt.
The Never Ending Story – One of the top favorite films from the guys in Voyag3r. The NeverEnding Story is a 1984 English-language West German-American fantasy film co-written and directed by Wolfgang Petersen (in his first English-language film), and based on the 1979 novel The Neverending Story by Michael Ende. The film was produced by Bernd Eichinger and Dieter Giessler. It stars Noah Hathaway, Barret Oliver, Tami Stronach, Patricia Hayes, Sydney Bromley, Gerald McRaney and Moses Gunn, with Alan Oppenheimer providing the voices of both Falkor and Gmork (as well as other characters). The film follows a boy who happens upon a magical book that tells of a young warrior who is given the task of stopping the Nothing, a dark force, from engulfing the wonderland world of Fantasia.
Dave Mustaine has confirmed that Testament's Steve DiGiorgio played bass on the forthcoming Megadeth album, The Sick, The Dying… and The Dead! Voyag3r are all huge fans of Steve DiGiorgio's work in Death, Testament, Sadus and more. Voyag3r cannot wait to hear Steve DiGiorgio's bass work on the new Megadeth album.
Like, subscribe and comment or you can get in touch with the podcast via askv3cast@gmail.com For past episodes, visit our V3 Cast page.