Pre-orders are open for the two-disc vinyl edition of The Official Companion Album for The Rise of the Synths, the globetrotting synthwave documentary. Vehlinggo is pleased to reveal the album artwork and give you all the information you need to know about this Lakeshore Records release featuring the likes of Giorgio Moroder & Raney Shockne, Com Truise, Voyag3r, and Dance with the Dead. (The street date is Dec. 8, but pre-order ASAP because these things will go fast. After all, who can resist The Rise of the Synths on vinyl?)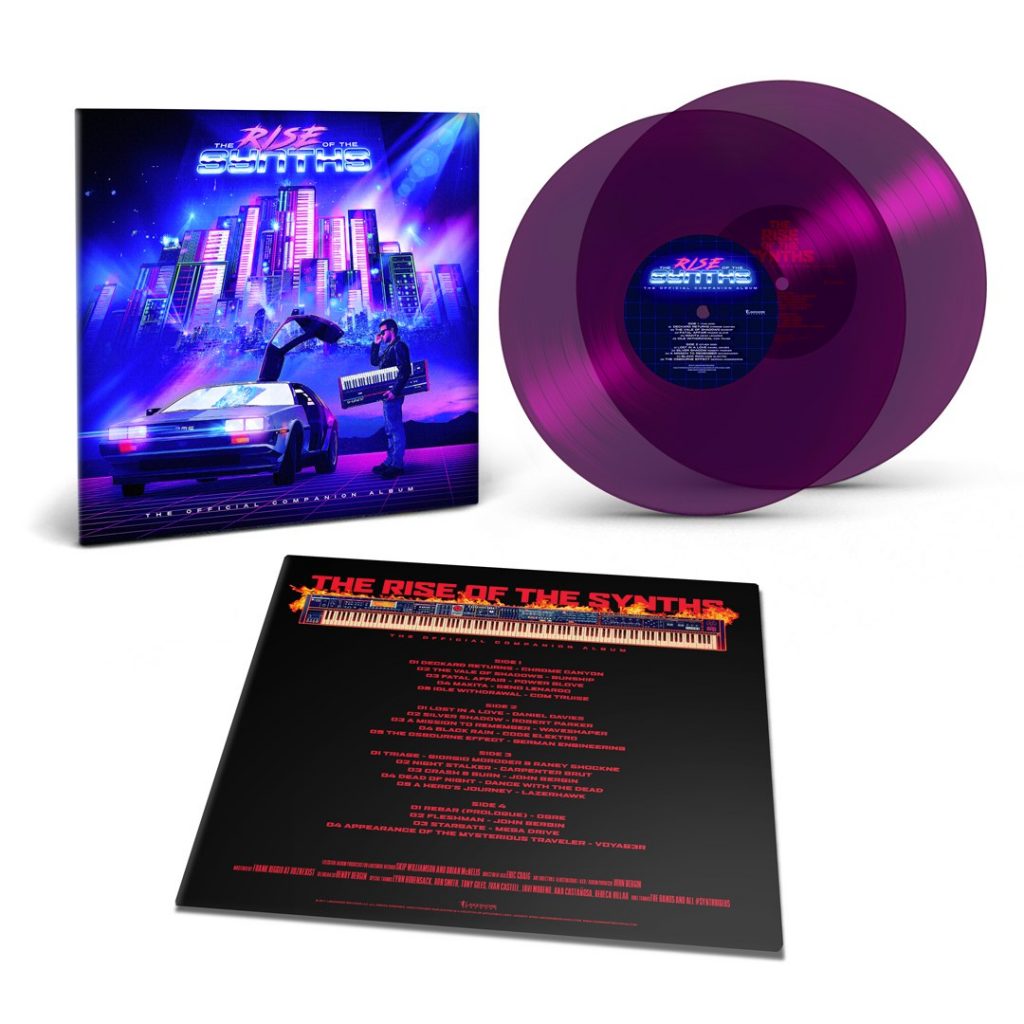 What makes this companion release possible is the documentary behind it all, which was primarily funded by an expansive crowdfunding effort. Director Ivan Castell and producer Javip Moreno are traveling the world interviewing both pioneering synth musicians and the artists inspired by them —  Drive artists Electric Youthand College; Miami Nights 1984; Com Truise; Dance with the Dead; Maethelvin; The Midnight; Betamaxx; Futurecop!, Kristine, OGRE, Carpenter Brut, Lazerhawk, Perturbator, Mitch Murder, and so many more.
Castell and Moreno are also interviewing music journalists, tour organizers, and others involved in the scene. For more information, read up on the documentary and its scope. It's an inspiring endeavor.
'THE RISE OF THE SYNTHS' VINYL TRACKLIST
SIDE 1
1 "Deckard Returns" – Chrome Canyon
2 "The Vale Of Shadows" – GUNSHIP
3 "Fatal Affair" – Power Glove
4 "Makita" – Geno Lenardo
5 "Idle Withdrawal" – Com Truise
SIDE 2
1 "Lost In A Love" – Daniel Davies
2 "Silver Shadow" – Robert Parker
3 "A Mission To Remember" – Waveshaper
4 "Black Rain" – Code Elektro
5 "The Osbourne Effect" – German Engineering
SIDE 3
1 "Triage" – Giorgio Moroder & Raney Shockne
2 "Night Stalker" – Carpenter Brut
3 "Crash & Burn" – John Bergin
4 "Dead of Night" – Dance With The Dead
5 "A Hero's Journey" – Lazerhawk
SIDE 4
1 "Rebar (Prologue)" – OGRE
2 "Fleshman" – John Bergin
3 "Stargate" – Mega Drive
4 "Appearance Of The Mysterious Traveler" – Voyag3r