New York Ninja Worldwide Premiere at Beyond Fest 2021
New York Ninja will get its world festival premiere at this years Beyond Fest in Los Angeles, CA. Playing at the Aero Theatre on Saturday, October 2, the film will be presented by Vinegar Syndrome's Kurtis Spieler, who spearheaded the project. There will also be a Q&A, after the film, from some of the voice actors and some members of Voyag3r. Beyond Fest is the highest attended genre film festival in the U.S. and exists to serve the genre community in Los Angeles. Screening and ticket information can be found here. Tickets go on sale on Friday, September 17.

The first revealed track, "Battle on the Rooftop", from the New York Ninja soundtrack is now streaming on all platforms.
YouTube | Spotify | Apple Music | Amazon | Tidal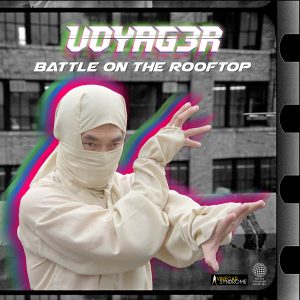 While NINJA was shot entirely on 35mm in 1984, the project was abandoned during production resulting in all original sound materials, scripts and treatments going missing. The rights and unedited original negative were subsequently acquired by Vinegar Syndrome, who have meticulously constructed and completed the film, enlisting the talents of genre film superstars Don "The Dragon" Wilson, Michael Berryman and Cynthia Rothrock to voice the leads as well as Voyag3r to compose an original score.