New York Ninja to Premiere in Sweden!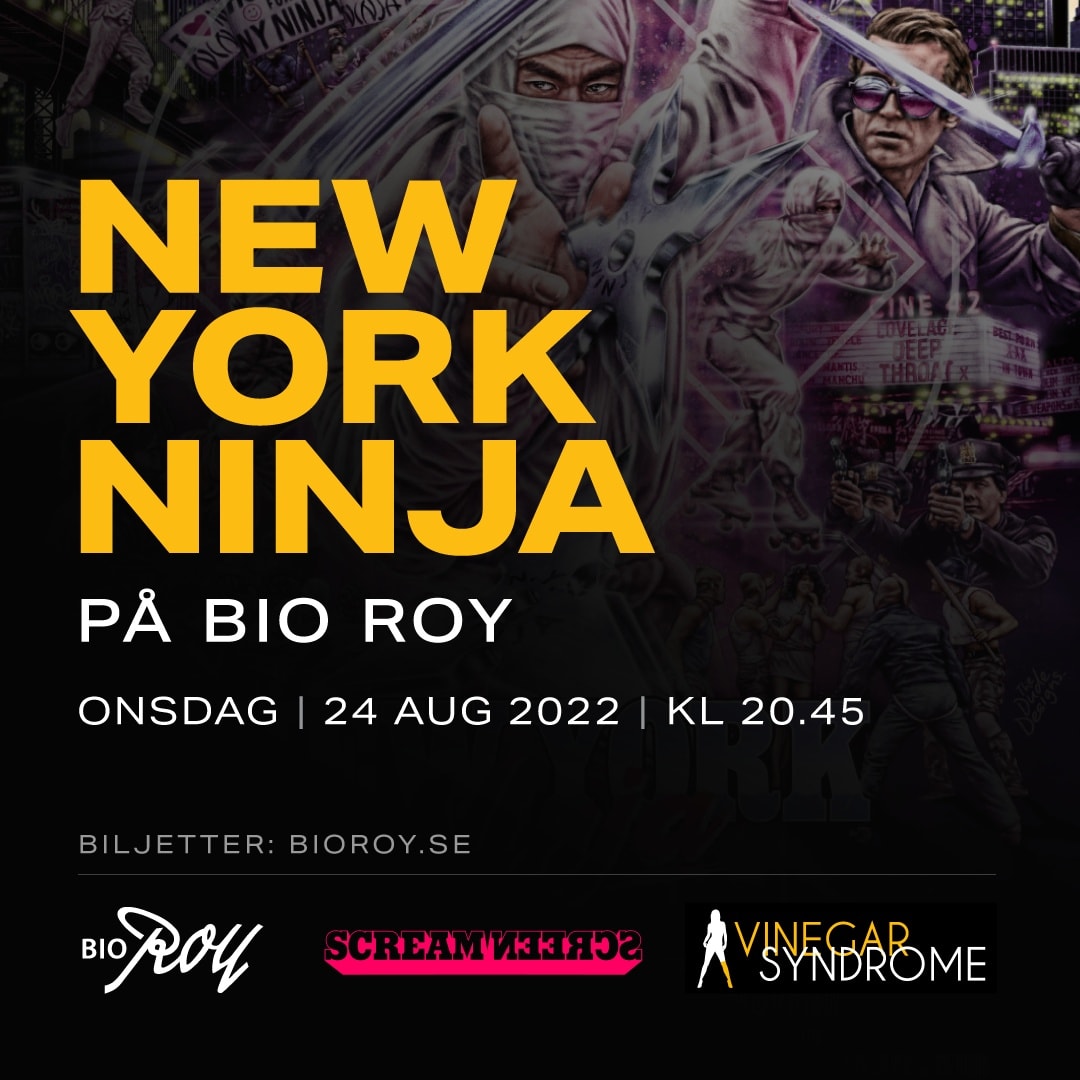 Sweden! Are you ready for NEW YORK NINJA?! Join us Wed. Aug. 24 at the Bio Roy Theatre in Gothenburg for a one-night screening at 20:45 as part of Den Dåliga Filmklubben! Thank you for welcoming Vinegar Syndrome and Scream Screen to Sweden! Tix at: https://bioroy.se
Appearing in collaboration with cult American distribution company Vinegar Syndrome . Vinegar Syndrome is on site from 18.45 with a pop-up shop in our foyer.
John is an ordinary guy who works as a sound engineer at a news channel in New York. One day his pregnant wife witnesses a kidnapping which leads to her murder. Desperate, John turns to an overburdened police force but soon realizes he must take matters into his own hands. Dressed as a white ninja, John enters the streets of New York to face robbers, pickpockets, rapists and gang members. In pursuit of John's version of justice, he soon becomes the target of every criminal in town – including a mysterious villain known as the Plutonium Killer. Will John be the help New York so desperately needs?
New York Ninja was originally filmed by martial arts actor John Liu in 1984 but the project was abandoned and all audio material was lost over time. 35 years later, Vinegar Syndrome decided to start from the camera negatives and complete the film. Restored in 4K, New York Ninja is ready for the big screen after four decades – are you ready for New York Ninja?
'Vinegar Syndrome has found/created a fantastic cult classic' – Film Threat
'As downright goofy as New York Ninja is, it's the genuine heart of the original production that really makes the whole thing work' – Screen Anarchy
Director: John Liu Chung-Liang, Kurtis Spieler | Cast: Bill Timoney, Michael Berryman, Vince Murdocco, Matt Mitler, John Liu Chung-Liang, Don Wilson, Adrienne Meltzer, Linnea Quigley, Leon Isaac Kennedy, Cynthia Rothrock, Ginger Lynn Allen, Zihan Zhao | Country: USA (2021) | Age limit: From 15 years.
To hear some of the New York Ninja soundtrack, visit our Audio page.