Voyag3r announce new album, the Original Motion Picture Soundtrack to New York Ninja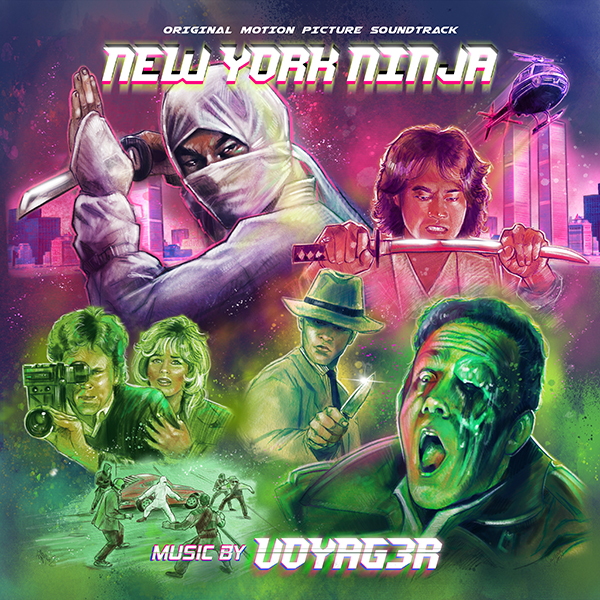 We are so happy to announce that we have a new album coming out this fall! It is the Original Motion Picture Soundtrack to the film, New York Ninja. Written, directed and starring the legendary martial artist, John Liu.
Read what Vinegar Syndrome released today:
Vinegar Syndrome Pictures – Press Release
September 3rd, 2021 – Vinegar Syndrome Pictures / New York Ninja / Censor
Press inquires: press@vinsyn.com

Internationally acclaimed and film focused genre cinema home video distributor, Vinegar Syndrome, is proud to announce the formation of Vinegar Syndrome Pictures. VSP is a fresh sub-branding dedicated specifically to the production and distribution of carefully curated, often daring, first fun, genre-based feature films exclusively photographed on motion picture film.VSP's initial release slate will kick off with NEW YORK NINJA, a wild action comedy originally directed by and starring John Liu, and produced by legendary New York exploitation producer Arthur Schweitzer. While NINJA was shot entirely on 35mm in 1984, the project was abandoned during production resulting in all original sound materials, scripts and treatments going missing. The rights and unedited original negative were subsequently acquired by Vinegar Syndrome, who have meticulously constructed and completed the film, enlisting the talents of genre film superstars Don "The Dragon" Wilson, Michael Berryman and Cynthia Rothrock to voice the leads. NINJA will receive its world festival premiere this Fall where it will be presented by Vinegar Syndrome's Kurtis Spieler, who spearheaded the project, with additional details on home video and digital distribution to be announced.Following NINJA, VSP, in association with Magnolia Pictures, will present the world 4K UHD Home Video Debut of Prano Bailey-Bond's critically acclaimed, stunningly beautiful, and highly unnerving 35mm lensed psychological thriller, CENSOR, which includes stock footage from the Vinegar Syndrome vault including FROZEN SCREAM! VSP's deluxe and extra features packed UHD/Blu-ray special edition will be available for pre-order exclusively from VinegarSyndrome.com later this month, and will come housed in a limited edition rigid slipbox with newly commissioned artwork.
In addition to NEW YORK NINJA and CENSOR, VSP is preparing several additional titles for both home video as well theatrical distribution and is planning to enter pre-production on a new feature film this Winter.
———————————————————————————————-
Stay tuned, we will keep you up to date on all of the soundtrack formats and release dates.